National
Australian foreign affairs minister Julie Bishop in Fiji
Australian Foreign Affairs Minister Julie Bishop arrived in Fiji this afternoon and headed straight to Koro Island to see the devastation caused by Tropical Cyclone Winston and rehabilitation work carried out on the Island. Minister Bishop arrived at the Nausori Airport and left for Koro shortly after having a short discussion with the Minister for […]
Staff Writers
March 13, 2016 5:27 pm
Australian Foreign Affairs Minister Julie Bishop arrived in Fiji this afternoon and headed straight to Koro Island to see the devastation caused by Tropical Cyclone Winston and rehabilitation work carried out on the Island.

Minister Bishop arrived at the Nausori Airport and left for Koro shortly after having a short discussion with the Minister for Foreign Affairs Ratu Inoke Kubuabola and Minister for Agriculture, Rural Development and National Disaster Management Inia Seruiratu.
Minister Bishop is expected to be back in Suva this later this evening.
Minister Bishop is here to see the devastation of TC Winston on the country and meet some of the Australians helping in the recovery efforts.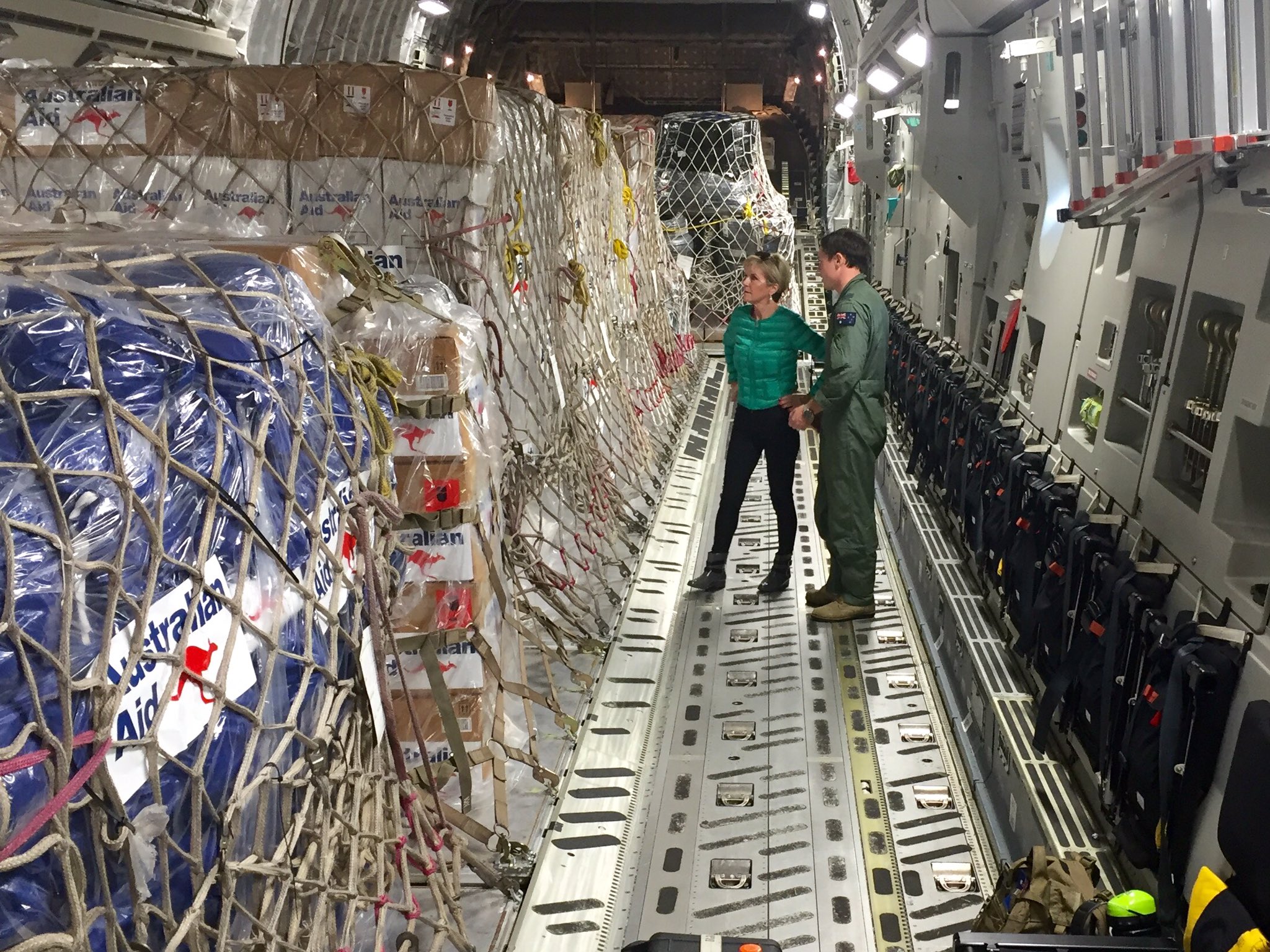 The Minister said in a statement yesterday that the Australian government had committed $15 million in humanitarian assistance to Fiji following the cyclone, dispatched 30 relief flights and deployed Australia's largest navy ship HMAS Canberra.
The Australian Government responded rapidly following Cyclone Winston. To date we have committed $15 million in humanitarian assistance to Fiji. We have dispatched around 30 relief flights from Australia to Fiji to deliver more than 500 tonnes of humanitarian support and equipment.

We have also deployed Australia's largest Navy vessel, the HMAS Canberra, with approximately 60 tonnes of emergency relief supplies. Australia's assistance will reach up to 200,000 people with much needed shelter kits, access to safe water and hygiene items for the worst affected communities.

Australian medical teams have also treated over 1,500 people in mobile health clinics, including specialist treatment for women affected by the Cyclone.
Minister Bishop is expected to meet with Prime Minister Voreqe Bainimarama and other Fijian ministers during her visit.
As part of my visit I will meet with Prime Minister Bainimarama, Foreign Minister Kubuabola and Minister for National Disaster Management Seruiratu.

I will reassure the people of Fiji of Australia's ongoing support at this difficult time.

I will also meet with and thank the hundreds of Australians working alongside Fijians to
deliver the Australian Government's humanitarian response to Cyclone Winston.
Minister Julie Bishop said that Australia remains committed to supporting Fiji's long-term recovery in full cooperation with the Government of Fiji.
The death toll stands at 44 after TC Winston.
What do you think? Leave a comment below.